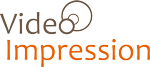 Your Online Marketing and Video Company in Germany
You are looking for a fast video production
in Germany?
+ fast response
+ highclass quality
+ easy production
+ partners throughout Germany
You would like to have your online videos produced quickly, easily and efficiently?
You would like to have an authentic image movie of your company?
You have a special event in Germany and you need a recording for this event?
Our videos are different because they revolved around StoryTelling. People are always interested in people. Our core business is the conception and production of journalistic image films, including the concept development for convincing video stories.
We are the only video production specialized in the field of "journalistic image film", which means for you:
Our films are easy to understand, authentic and the impressions stay in the customer´s mind.
If you have got any questions concerning Video Impression, we are more than happy to help. Do not hesitate to contact us.
Mail: anfrage@video-impression.com
Mobile: +49-176-393 40 902
Or send me information.
Just sign in: